_____________________________________________________________________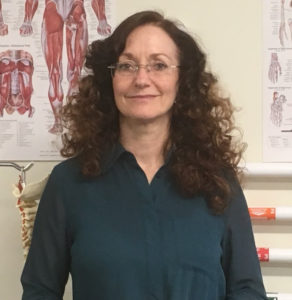 Eileen Kopsaftis, BS, PT, CAFS, MI, CHE, NE is a health and pain expert who sees people eliminate pain, regain health, and return to doing the things they love to do every day. She has been practicing physical therapy since 1994. Her specialties are performing manual techniques to correct biomechanical dysfunction and asymmetry, and teaching people how to resolve their pain using powerful and effective self-care methods. Her approach is eclectic with a four-prong approach to resolve the root causes of pain and dysfunction.
Eileen speaks internationally at conferences to teach about pain and her classes and private consultations are designed to teach people of all ages and conditions how to regain their health and their movement as well as eliminate pain. She also teaches community education classes at Hudson Valley Community College. Additionally, she delivers talks to employers about how to reduce healthcare costs related to musculoskeletal disorders by using her methods.
Eileen is passionate about empowering others to have lifelong wellbeing. She believes life is meant to be enjoyed, not endured.
Credentials:
NY & Ohio Physical Therapy Licensure
Manual & Movement Therapy Specialization: 800 hours of manual and movement techniques training (see below)
MELT Method Instructor
Certified Applied Functional Science Practitioner: The Gray Institute
Certified Health Educator: Diet & Lifestyle Intervention Program with Wellness Forum Institute for Health Studies
Nutrition Educator Program: Wellness Forum Institute for Health Studies (700-hour diploma program)
Faculty member at The Wellness Forum Institute for Health Studies, where her responsibilities include teaching physicians and other healthcare professionals about how to effectively treat musculoskeletal disorders.
Director of Manual and Movement Education for Wellness Forum Institute for Health Studies, which commissioned her to develop and administer a certification course designed to teach professionals how to replicate her practices.
Creator of Move Without Pain: providing education to the public in 3 planar functional movement and how to effectively address the root cause of pain through whole body assessment and self-care training.
Manual & Movement Training
Muscle Energy Technique
Mulligan's Mobilization with Movement
Strain and Counterstrain
Advanced Strain and Counterstrain
McConnell Technique
Neurofascial Release
Myofascial Release
Craniosacral Technique
Trigger Point Therapy
McKenzie Technique
Spinal Stabilization
Kinesiotaping
Total Motion Release
Chain Reaction
MELT Method Levels 1 and 2